3 Plumbing Repairs That Use Advanced Technologies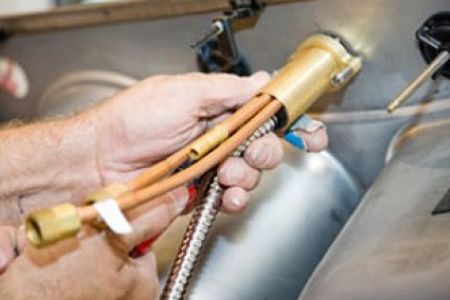 Plumbing repairs have come a long way because of new technological advancements.
With today's modern equipment and technology, the time that it takes to complete most plumbing repairs can be cut in half. This saves you money in labor costs and also keeps you waiting for projects that used to take several days.
Any reputable plumbing company stays current with advanced technology and trains all of its plumbing technicians to learn time and money saving techniques. This way, they can give superior plumbing repair service to customers.
Below are some of the examples of how technology has advanced plumbing repairs and what it means to you.
Plumbing Video Inspections
Plumbing video inspections are hands down one of the practical and useful tools in the plumbing industry today. A sewer camera can easily reach places that are very difficult for a technician to reach.
A great advantage to sewer cameras is that any plumber can now get the most accurate, up-to-date information regarding your sewer's condition. All video footage can be recorded and analyzed correctly so that the right repairs or maintenance can be done to your sewer system. We can target loose connections, busted pipes or any blockage in no time at all and make the necessary adjustments.
High-Pressure Water Jetting Services
High-pressure water jetting creates maximum water pressure in order clear out blockage from your sewer system. With Hydro Jetters, there is an adequate impact upon blockage to remove all types of clogs without damaging the system.
High-pressure water jetting cleans and sanitizes your drains and pipes as well. This method is powerful enough to clear out even the most difficult blockage such as roots and other stubborn items that clog your pipes. And, it removes bacteria and other contaminants that you don't want in your home environment.
Pipe Replacement Services
Homeowners love trenchless service because they take care of all your underground pipe problems without having to undergo any yard excavation. Trenchless equipment and methods can easily repair or replace any pipe without destroying your lawn, landscaping, sidewalk, or driveway. This means you no longer have to spend extra money in yard repairs. This also preserves the original look of your yard so that it is not an eyesore in the neighborhood.
Next time you contact a plumbing professional ask them about all the modern services and equipment available to you. This will keep your plumbing costs low and get your repair, installation, or maintenance completed in a timely manner so that you can get back to your normal activities.
Where To Find The Best Plumbing Repairs In Stratford
When you need plumbing repairs, remember you can count on the expertise of the Stratford plumbers at The Drain King to get the job done right, no matter what time of day or night your plumbing problems come up. We work 7 days a week and offer 24 hour emergency plumbing repair service to ensure we can take care of your plumbing needs whenever you need a reliable Stratford plumber.
At The Drain King, our plumbing repair experts specialize in both routine and extensive plumbing repairs. The most common plumbing issue is a clogged drain. Through our drain cleaning services, our plumbing professionals can resolve all of the inconveniences that are caused by clogged drains. Our plumbing repair contractors can also repair plumbing appliances and fixtures. After our plumbing repair services, you can feel confident that your plumbing system is operating properly.
You do not want an amateur plumber turning something the wrong way, breaking off a tap, and flooding your house, right? So make sure you choose a reliable plumber for your plumbing issues - call The Drain King, your Stratford plumbing repair specialists. We always take the time to assess your situation and offer cost effective plumbing repairs that are done correctly and efficiently, saving you time and ensuring the job is done right.