Plumbing Experts For Laundry Room Services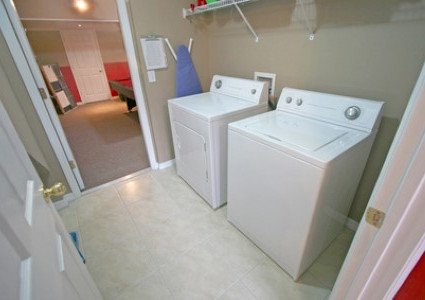 The Drain King is the preferred local plumbing company for laundry room plumbing services. Whether this is part of your basement or a separate room, we can give you the high-quality level of professional service that you want, need, and deserve.
It's important to have a reliable resource for this and all of your plumbing service needs. During your time as a homeowner, you'll find there are a number of tasks that make your to-do list that require the expertise of a seasoned plumber.
This area needs to be functional and ready to handle all the workload of keeping your family's clothing clean. Let our laundry room plumbing experts get your washing machine hooked up properly, maintained and repaired, then replaced when needed.
Signs of Shoddy Washing Machine Installation
Even the most expensive, top-of-the-line washing machine is only able to perform as well as the installation work invested into it. As part of your laundry room plumbing service, we'll ensure this job is handled with skill and precision.
Some signs you may have been the victim of inferior quality washing machine installation service before are:
Wobbling
Leaks
Drum Doesn't Fill
Drum Doesn't Drain
Early detection often means the issue can be corrected. Minor repairs may be required but it can still resolve the issue. In some cases though, irreparable damage may occur leading to more expensive work, like motor replacement, or the entire machine may need to be replaced. Avoid this by hiring a reputable plumber to take care of the installation as well as annual maintenance.
Making maintenance like this part of your general plumbing routine will make a big difference. Of course, it all boils down to the professional you opt to hire to take care of the work, in the first place.
Planning & Maintaining Your Laundry Room
Your laundry room can be as simple or as complex as you'd like. You may have just a washing machine and dryer or you may also include an oversized sink for pre-washing or for projects like dyeing clothing.
Some homeowners also like to combine this space with a mud room for easy cleanup of dirty clothing. This is often a good space for your hot water tank storage, unless your household is transitioning to a tankless system.
That's up to you and we'll work with you to design the perfect layout for your home and the needs of your family. What matters the most is that the work is executed in a professional manner to avoid leaks, flooding, or other plumbing related issues.
Call us now for the work you need to be completed for laundry room plumbing, for your Stratford area home.