Your Reliable Wilton Plumber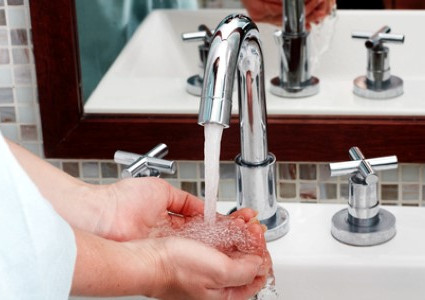 Great Plumbers at a great price - that's The Drain King - Your premiere and professional Wilton Plumber.
If you have a problem that just cannot wait, call us. Our plumbing can service you 24 hours a day, 7 days a week. The trucks that drive are little, mini warehouses. They generally have everything they need to fix your plumbing problem, no matter how big - or small.
Wilton Plumbing Repairs
Your plumbing problem is our plumbing problem. Our Wilton professional plumbers are courteous, efficient and work with great integrity. If your home or office is in need of some type of plumbing repairs, don't wait - Call us today! A leaky faucet may seem rather harmless in the beginning, but if left unchecked and untouched, can become something much worse and end up costing you way more than some simple repairs. Whether it is a small job or your sewer is all jammed up, The Drain King can fix it all. Don't let these 'little' problems compound and sneak up on you and bring you anger and frustration as it evolves into much more costly plumbing repairs: Call us today for a free quote!
Drain Cleaning Services in Wilton
A clogged drain can be very frustrating, but The Drain King has the solution. First, our professional Wilton drain cleaning contractors will open the line and review the problem at hand. Then he will use our company process to thoroughly clean any clogs that are there.
From problems as simple as when your two year old has flushed his favorite toy down the toilet to a more difficult sewer backup - we've got the equipment and the trained technicians on the job to get things flowing for you quickly and efficiently. Bathroom sink, bathtub, kitchen sink, main sewer, etc. we can take care of all of it for you as quickly as possible.
Wilton Sump Pumps
To keep things moving along with your sewer lines, we suggest keeping your Wilton sump pump in tip-top running condition. At The Drain King, we've been installing and maintaining sump pumps for years in the Wilton. Our long list of clients can attest to that. If yours is giving you fits and you've got some waste and sewage backing up, your sump pump may be in need of some attention. Call us today for a free estimate for any sump pump repairs you may need.
Wilton Preventative Maintenance
At The Drain King, we know that when it comes to your home or office plumbing system, a plumbing preventive maintenance is key. If you are careful and take care of your system in the present, the future won't be as costly with major plumbing problems. There are tons of pipes, valves fittings and other plumbing devices in, under and through your home or office. All it takes is one of these to go bad for your day to be ruined. You should hire a professional plumber to have a Wilton plumbing preventive maintenance program completed. Call us today for a free quote!