Finding The Right Outdoor Plumbing Expert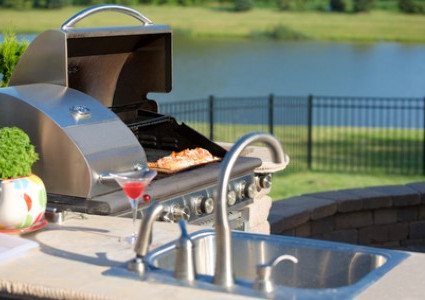 As more homeowners make choices about including the great outdoors as part of their everyday living space, it means finding professional contractors to take care of systems like plumbing. The Drain King is your local leading resource for a plumbing company that can handle outdoor plumbing with the same skill and finesse as indoor systems.
Your outdoor plumbing needs may be as simple as a sprinkler or as complex as replicating your entire kitchen outdoors. Either way, that's something we can take care of for you.
Set yourself up for long term success with your outdoor living spaces by having a reputable plumber to partner with for this type of work. We'll design, install, and maintain every aspect of your outdoor plumbing for you.
Make the Most of Your Outdoor Living Space & More
Do you want to add an ornate outdoor fountain? Or are you seeking more of a general plumbing expert to handle the facets of an outdoor kitchen? Some of the most common requests we get for outdoor plumbing include setting up things like:
Outdoor Faucets
Outdoor Showers
Outdoor Sinks
Sprinkler Systems
Decorative Fountains
The jobs can be for functional purposes or more decorative ones. Either way, the work has to be good so that the results are long term, with minimal repair work over the years.
As important as the designing and installation of this type of work may be, you also need a professional to help with maintenance and repairs. The more outdoor plumbing components you have, the greater the chances for issues like leaks or frozen pipes in the winter.
The professional you contact for this type of service needs experience and expertise with an outdoor system. Let The Drain King be your go-to resource for plumbing work, both indoors and out.
Put Your Sprinkler System to Work for You
Outdoor plumbing is commonly used to help make your grass so healthy, the neighbors will be green with envy. You can have the perfect lawn without spending a fortune on your water bills, but you have to be careful.
Work with a reliable expert that can help with this job and make the most of this by:
Careful planning - Certain areas of the lawn may need more water than others. This is usually based on the amount of direct sunlight or drainage. Either way, plan your system accordingly so your entire lawn will be as lush and green as possible.
Use an expert - Just because you can technically install a sprinkler system yourself doesn't mean you should. Hire a pro and avoid mistakes.
Avoid water contamination - The last thing you want to do is end up polluting your home's water supply. So if you intend to use fertilizer, pesticides, or other chemicals, install a backflow preventer and avoid contaminating your own indoor plumbing.
Above all else, call us when you need a professional Stratford plumbing company for indoor and outdoor plumbing.